Choose A Device
Choose A Plan
Review + Checkout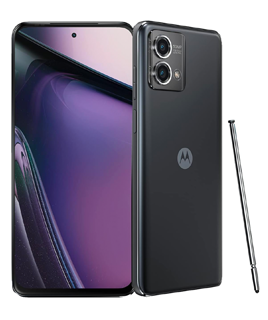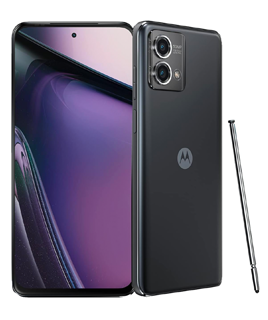 Motorola
Moto G Stylus 5G
As low as
399.99
$149.99
---
Per Month
$5.00
*IMPORTANT Please note the device protection on your previous device will be canceled.
Don't forget to tell us if you want the device protection plan
Protect your device with Allstate for $5 per mo.
Color: Cosmic Black
OS: Android 13
6.6" FHD+ (2400x1080)/ LTPS/ 120Hz Refresh Rate
Storage: 256GB/6GBRAM
Processor: Snapdragon 6 Gen 1
Camera Rear: Main 50MP (f/1.88)/ Ultra Pixel Technology Camera 2 8MP (f/2.2) Ultrawide + Macro Vision + Depth
Front Camera: 16MP (f/2.4 Quad Pixel)
Network: 5G: NR band 1/2/3/5/7/12/13/14/25/26/29/30/38/41/48/66/70/71/77/78 4G: LTE band 1/2/3/4/5/7/8/12/13/14/17/18/19/20/25/26/29/30/38/39/40/41/48/66/71 3G: WCDMA band 1/2/4/5/8 2G: GSM band 2/3/5/8
Wi-Fi: 802.11 a/b/g/n/ac 2.4GHz & 5GHz, Hotspot
Connectivity: Bluetooth 5.1/ Up to 20W Charging Capable
Gestures: Quick Capture/ Fast Flashlight/ Three-Finger Screenshot/ Flip for DND/ Pick Up To Silence/ Lift To Unlock/ Swipe To Split/ Quick Launch
Li-Ion 5000 mAh
M3/T3 Hearing Aid Compatibility
This phone includes a one year manufacturer warranty
Precision, Performance, and Productivity in One. Get ready to experience a new level of smartphone versatility with the Motorola G Stylus 5G (2023) 256GB. This device is designed to bring precision, power, and productivity to your fingertips, making it the perfect choice for those who value both creativity and performance.
Common questions about our devices
You can bring any unlocked GSM device to PureTalk. To check if your phone is compatible, please click
here
and use the compatibilty checker. If you purchased your phone from another carrier, you must contact that carrier to determine if the phone is unlocked.
GSM and CDMA networks are two types of cellular phone networks, each using a different core technology. AT&T and T-Mobile both run on GSM technology. If your phone is set up to run on one of these networks then it will be compatible with PureTalk. Verizon and Sprint run on CDMA technology and phones from their networks are not compatible.
CDMA and GSM networks are two types of cellular phone networks, and generally, if you have a phone made for one, it can't be used on the other. In the US, Sprint and Verizon run on the CDMA networks while AT&T and T-Mobile run on the GSM networks.
You can dial *#06# from your PureTalk phone and it will appear on your screen or you can look in your phone Settings under General.
That should be no problem. Just make sure the new model is a GSM unlocked device. All phones sold by PureTalk are GSM unlocked.
Devices purchased from PureTalk are all GSM unlocked devices. We cannot guarantee compatibility with other service providers. You would need to speak with that provider for verification.
No, it doesn't. Unlike many other wireless carriers, PureTalk does not lock devices to our network.
There are a couple of ways to find out. You can contact the original carrier of the device to make sure it is no longer associated with a contract or billing plan, or check the device before you purchase it to ensure it is already unlocked. Alternatively, you can try replacing the SIM card to see if you get coverage.
It sure can! But for a device to work on the PureTalk service, it must be both unlocked and GSM SIM compatible.
If you find you are suddenly experiencing signal issues on your device, there could be a number of influencing factors. The first step would be to check our coverage map. If there is coverage in the location in which you have traveled to, contact our Technical Support department from a different device to receive assistance with troubleshooting.
We do not recommend joining PureTalk if you do not have coverage in your home location. If there is no coverage at your house, your cell phone will not connect to the network. You would not be able to connect to our service until you travelled into an area where there is coverage. If you still want to try out our service, you can check out our Trial SIM kit on Amazon.
There are many factors that could influence your connectivity. If the reception has dropped suddenly in an area where you have always had service, you should contact our Technical Support department at 1-877-820-7873 for assistance from another device for troubleshooting.
Contact our Technical Support department at 1-877-820-7873 or dial 611 from your PureTalk phone to assist you in determining if there are any coverage issues in the area.
Every mobile phone has an International Mobile Equipment Identity (IMEI) number that identifies the phone. The IMEI is 15 digits long and it can be used to check various bits of information, such as the country of origin, the manufacturer, and the model number. When a phone is reported lost or stolen the IMEI will be blocked from use.
We look at three main criteria: 1) Your phone must be unlocked, meaning it can not be tied to another carrier because of your contract or payment plan. Contact the carrier if you are uncertain. 2) It must be GSM Compatible. Phones purchased from AT&T and T-Mobile are GSM compatible. 3) Phones that have been reported lost or stolen will have a non-compatible IMEI (serial number) and will not work.
Tethering is when you allow other devices to connect to your mobile device to access the internet via your cellular network connection. This does use the data available on your plan and is also known as using a mobile hotspot.
PureTalk sells only unlocked GSM phones. Unfortunately, we do not have the ability to unlock phones that were locked by other carriers. If you learn your phone is locked, you would need to contact your previous carrier to request the device be unlocked.
A PUK code is a code used to unblock your SIM card. If at any point your SIM card becomes blocked, you may contact our Customer Support department at 1-877-820-7873 or dial 611 from your PureTalk phone to obtain your PUK code.
Yes, you sure do. Your phone won't be able to make/receive phone calls or access mobile data without a PureTalk SIM card.
5G access is included with every plan.
Make sure you have a 5G compatible phone and you are in a 5G coverage area.
No, 5G works with standard PureTalk SIM cards.
{
8e7ef6bf-f7dc-5e8d-adc7-2bbf60c0f409