Choose A Device
Choose A Plan
Review + Checkout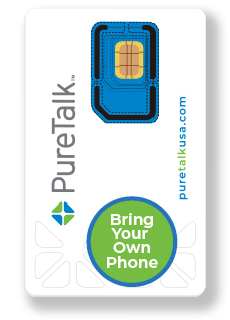 Phone - PureTalk SIM
As low as

$

3.00
Description
Already have a compatible unlocked phone? Replace your SIM card with a new PureTalk SIM card. Our triple punch SIM card comes with the standard, micro and nano SIM all in one card. Select the size you need and your phone will work great with any of our budget friendly mobile plans.
Consider choosing eSIM to activate today
You may want to consider choosing an eSIM instead of a physical SIM card. SIM cards are $3.00 and we have to ship it to you via FedEx 2-day, but an eSIM is zero cost to you. AND you can activate your PureTalk service immediately after checkout with eSIM without having to wait for a SIM card to be shipped to you. Choose which option you prefer below.
Is my phone eSIM compatible?
eSIM compatible phone models include:
iPhone XS series
iPhone XR
iPhone 11 series
iPhone SE 2nd gen
iPhone SE 3rd gen
iPhone 12 series
iPhone 13 series
iPhone 14 series
iPhone 15 series
NOTE – must have iOS 12.1 or later
{
7a3c17b4-af1b-5219-a356-92116f4122de