Dec 21, 2022
SIM Cards Simplified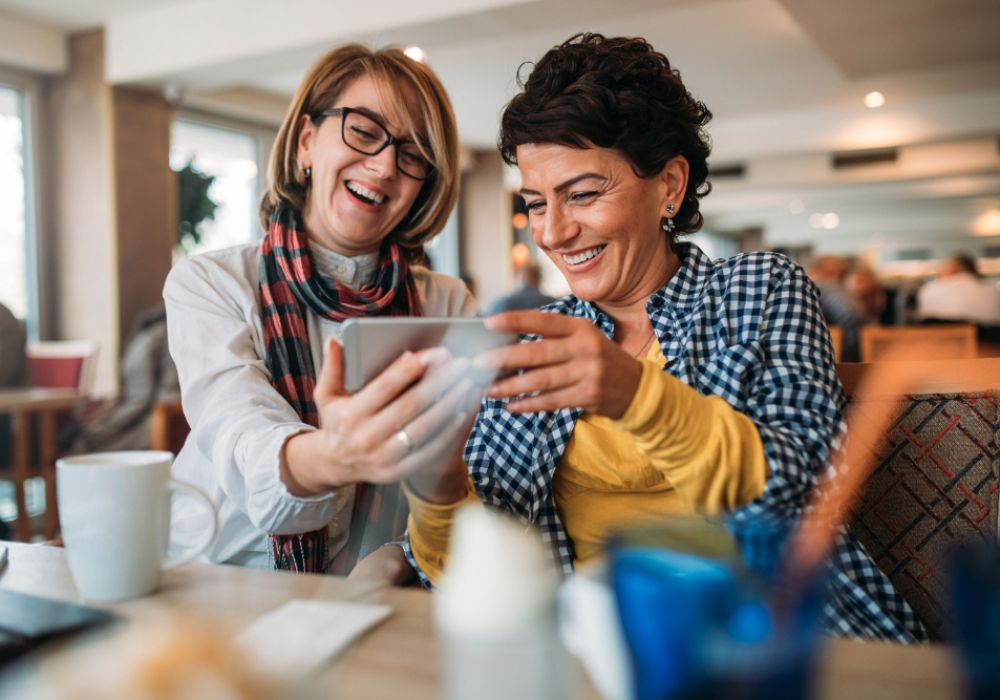 If you've ever wondered what a SIM card is, what it does, where it goes, why it's called a SIM card, and what happens if you switch it out, get ready because we're giving you the scoop right here.
What is a SIM card?
Your SIM card stores the information that enables your wireless provider to recognize it. Otherwise you couldn't text anyone or post anything. Your phone number is stored on your SIM card along with what are called "authorization keys." These give your phone authorization to access the data, texting, and other services provided by your cell phone plan. Without a SIM card, your phone could not access and utilize your wireless provider's network.
What does SIM mean?
SIM stands for subscriber identification module. The data contained on a SIM card is what allows you to access your wireless provider's network and utilize the features of your phone plan. It's a small smart card that is shipped to you once your order is complete.
Where is the SIM tray located?
On iPhone, the SIM tray is located on either the right or left side of your phone. On an Android phone, it is located on the top, bottom, or side. It depends upon the model of your phone.
What happens when you change your SIM card?
The short answer:
Changing your SIM card enables you to use any cell phone on your wireless provider's network, so if you need to switch from one smart phone to another for some reason, you can do so without a problem. Also, if your SIM card goes bad or is damaged somehow, you can replace it with a new one, though you'll lose some information.
The longer answer:
When you put in a new SIM card, you lose access to the information stored on the original card. The information – phone numbers, addresses, text messages – is still on that original card and all you need to do is pop it back into your cell phone to access it. To make absolutely sure you always have that information, you can also import it into your cell phone. This means that with or without your SIM card, you have access to your contacts.
How to import contacts from your SIM card to your iPhone
Put your original SIM card, as it's the one with all your contacts, into your iPhone.
Tap Settings > Contacts>Import SIM contacts.
Wait for the import procedure to finish.
Open Contacts and check that your contacts were all imported.
How to import contacts from your SIM card to your Android phone
Open Contacts settings.
Tap the "More" option.
Select "Manage Contacts."
Tap "Import/Export Contacts" and select Import.
Tap the contacts you want to transfer, then tap "Done."
Save the contacts to the phone.
Copying your SIM card
For further protection and assurance that your contacts are available to you, you can also make a copy of your original SIM card. This will leave you with two SIM cards, both with the exact same data (except for the unique IMSI identification number on each). You can now keep one in your device and the second as a backup should you need it. Just keep the second SIM card someplace safe.
To copy your SIM card, you'll need a SIM card reader (something you can buy at any large electronics retailer) and your original SIM card's IMSI number.
Place your original SIM card into the SIM card reader, then connect the reader to your computer. Input the device's IMSI number when prompted and you will receive an authentication key. Once your SIM card reader has copied the information from your original SIM card it to your computer, you can insert a new SIM card into the reader and the information will be transferred from your computer to the new SIM card.
At PureTalk, we believe in more than helping you understand SIM card ins and outs and tips to help you take good care of your phone. We believe in helping you get the phones and service you deserve at a real savings.
Right now, and for the foreseeable future, iPhone 14 is all the rage. And PureTalk's iPhone deals make it easier for you or someone you love to have the latest and greatest smartphones for less. Get iPhone 14 for under $20 a month! iPhone 14 Plus and iPhone 14 Pro for under $25 a month! And iPhone 14 Pro Max for under $30 a month! Those savings can't be beat.
Get the perfect wireless plan for your family's needs with PureTalk's Mix & Match Family Plans
No matter what your family's wireless needs are, PureTalk's Mix & Match Family Plans let you choose the right plan for each family member's needs. You can have any number of lines and choose the perfect wireless plan for each one. Your family members get exactly what they need, and you never pay for anything they don't. In fact, families of four who switch to PureTalk save $75 a month on average, for a savings of $900 a year! Whatever your family's size or wireless needs may be, you're sure to save a bundle!
Shopping for a phone plan for a senior?
Did you know that most seniors use less than 2GB of data per month? PureTalk offers great plans for seniors that let you pay only for what you actually want – and nothing you don't. And with PureTalk you get the same great service and blazing fast coverage while saving money each month.
At PureTalk, we don't think you should pay for data you don't need and aren't going to use. Switch today and receive great service and blazing fast coverage while saving money each month.
Choose from PureTalk's most popular plans!
$20/month: Unlimited Talk & Text; 2GB Data* Learn More
$25/month: Unlimited Talk & Text; 4GB Data* Learn More
$30/month: Unlimited Talk & Text; 6GB Data* Learn More
Need more data one month?
Simply go into your account portal and add more. When next month rolls around, if you need less data, you can go right back into your portal and reduce it. Simply log onto PureTalk.com, click on My Account, and select Manage My Data. Make your changes, save them, and log out. It's that simple.
Traveling to Canada or Mexico? PureTalk offers the best cell phone coverage in both countries.
Think of PureTalk as your travel partner. Get the best cellphone coverage in Canada and Mexico with PureTalk International Roaming for just $10.
It's really a great deal.
Plus, there's no setup. No additional wireless roaming charges. And no need to run out and purchase a local SIM card. Your phone simply works when you arrive. No hassles and not a moment of disconnection.
To add International Roaming:
Simply log in to your PureTalk account and click the "Add-Ons" tab. Then, select International Roaming as a one-time purchase. The service will be added immediately to your cellular phone package and you're good to go.
When to add International Roaming as a recurring charge:
If you travel to Canada or Mexico frequently, add International Roaming as a recurring monthly charge. Set it up once and it's one less thing to think about when you're headed out of town.
PureTalk's International Roaming means:
Constant connectivity.
No pricey roaming charges.
No additional devices to lug around.
In addition to our no contract, low cost, unlimited talk and text cell phone plans, PureTalk offers Canada- and Mexico-bound customers great value and something even more important: peace of mind.
PureTalk's International Roaming is the best $10 you'll ever spend. Add it with one click, and stay connected.
And that's not all…
PureTalk has the best referral program
At PureTalk, when you refer your friends, you reward yourself.
When you join PureTalk, you're given a unique referral link you can share with friends and family. For each friend who signs up through your unique link, you receive a $20 bill credit applied to your account, and your friend receives a $20 credit applied to their account. Best of all, there are no limits. You can refer as many friends as you want, and you will get a $20 credit for every single one of them.
Everything you need to know about the PureTalk Customer Referral Program:
1. Each customer has a unique referral link to share with friends. For each friend who signs up through your unique link, you will receive a $20 bill credit applied to your account, and your friend will receive a $20 credit applied to their account.
2. There are no limits to how many friends you can refer with PureTalk's Customer Referral Program. Refer all of your friends and get a $20 credit for every single one of them.
3. Your $20 credit will post to your account after your friend completes their second active month of service.
4. To see which of your friends you have referred to PureTalk, log in to MY ACCOUNT and click the "Referrals" tab at the top of the page. You will see all of your referrals listed in the "Referral Credits" table at the bottom of the page.
5. You can post your referral link anywhere you want. On your social media channels, your blog, in emails, etc. You can grab your unique referral link by logging in to My Account and clicking the Referrals tab.
6. There are two ways you can earn referral credits. Your friend can use your unique referral link or enter your phone number at checkout when asked if a friend referred him.
Don't forget: Remind those you are referring to PureTalk to enter your phone number at checkout IF they've forgotten to sign up through your referral link.
With the PureTalk referral program you can earn as many credits as you have friends and save even more on the plan of your choice!
PureTalk's Risk-Free, 30-Day Money Back Guarantee makes it easy to give us a try
With PureTalk's risk-free, thirty-day money back guarantee you have absolutely nothing to lose. Sign up and give us a try for one month. We know you'll love us. But if you don't, simply call to cancel your service within thirty-days and we'll return your money. No penalties. No hassles.
Why choose PureTalk?
When you choose PureTalk, you're choosing to support a company whose values align with your own. You're choosing to support a company whose CEO is a U.S. veteran. And you're also choosing to support American jobs: 100% of our customer service is based right here in the United States.
Plus, with PureTalk, you can bring your phone and keep your phone number or choose from our terrific selection of the latest iPhones and Androids.
Don't wait. Pick a plan now that meets your needs, suits your lifestyle, and helps you save!
What Our Customers Are Saying
Great customer service
"Your people are courteous, knowledgeable, efficient, and friendly. They fix my issues, port my numbers, and always sound happy to help. They speak American English and they are clear and easy to understand. Thank you all and don't change." Robert Z., FL
Great Experience
"It was very efficient to contact and set up the service with PureTalk. The website is easy to navigate, so one can both stay informed and keep their account information up to date. The price is much better than the larger carriers (I had T-Mobile for almost 20 years) and the voice and data services are at least as good as any others. Looking forward to many great years of excellent service." Michael S., PA
*After you have used your plan's high-speed data allowance, we will not turn off your data. Your speed will be throttled to 256 kbps. Typically, you can expect to experience download speeds of 4-35Mbps and upload speeds of 1-5Mbps with an average device to network edge round-trip latency of less than 60ms. The average speed and latency of our 4G LTE network is suitable for video and audio streaming, web browsing and other general Internet usage consistent with PureTalk terms and conditions. **After 60GB of data usage you will experience slower speeds.
---
Posted 2 months ago