Jan 3, 2023
File Your Taxes Using Your Phone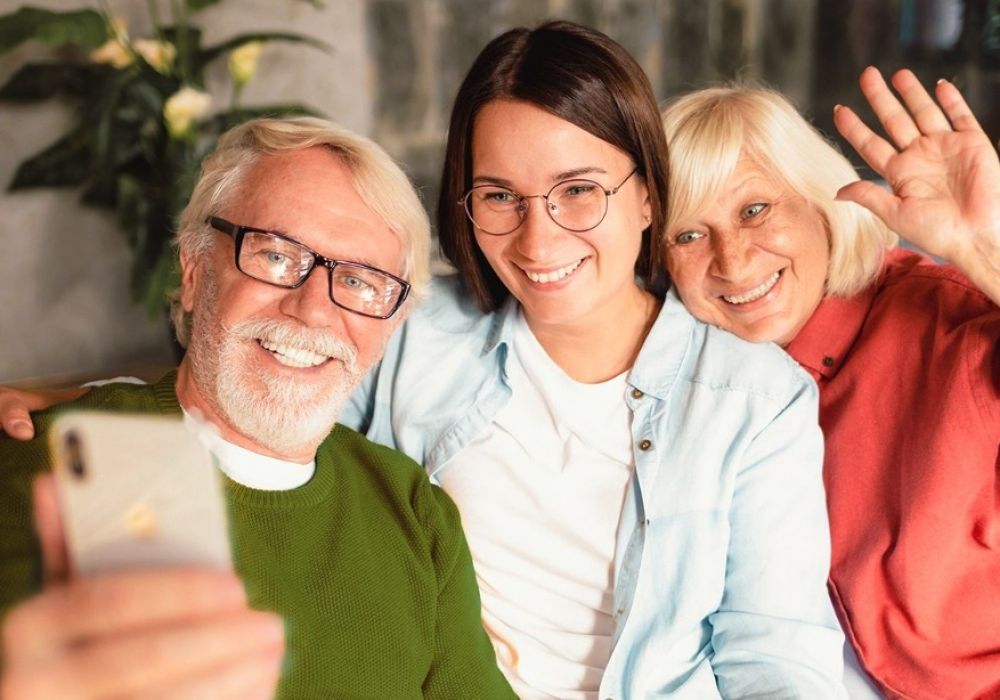 Gone are the days when you had to use a desktop or laptop computer to file your taxes. In fact, if your taxes are not complicated, you might not even need an accountant to do them for you.
Thanks to the camera on your phone, you basically have everything you need to file your taxes. You can scan and save all your tax documents in a snap and easily attach and submit them with your return.
The following are things you need to know about filing your taxes using your cellphone, and they pertain to Apple and Android users alike. We're also giving you a quick overview of several tax apps. These can help you get the biggest refund you're qualified to receive and get it faster than ever. But before you decide which app to use, do some research and read user reviews. You don't want to get into a situation where a function you thought was available isn't.
A few reasons to file your taxes using your phone
Filing your taxes using your smartphone might sound a bit daunting. A cell phone isn't a big device, and its size could concern you. You could also be thinking how tedious the whole endeavor will be. Like most things, once you've got some experience with filing your taxes via our smartphone, you'll see how easy it is. In fact, there are some super reasons to use your cell. Here is a couple:
Convenience.
If you don't have a computer or access to one, you most likely have a smartphone. Most people do. It could be iOS or Android, and both make it easy to file using the tax apps in the App Store and Google Play. Everything you need to file is, frankly, at your fingertips. Now that's convenient.
Speed.
As mentioned previously, using your phone's camera to scan tax documents and attach them to your taxes makes the entire process faster. And if you have used a particular tax app previously, much of your information is already saved. This means you'll spend less time completing the forms and you could end up filing that much faster.
What are the negatives to do doing your taxes on your phone?
Security.
The biggest negative is forgetting to delete the tax documents you've scanned and sent after you send them. Let's face it. These have all your identifying information – full name, address, and Social Security number. Your phone saves them as photos, so you need to get in there and delete every last one. Should your phone be lost or stolen, and if someone finds those photos, they could do serious damage to your finances or steal your identity.
Complicated taxes.
The simpler your tax situation is, the easier it is to file by phone. But, if you bought a house last year, launched a business, invested in cryptocurrency, etc., these kinds of transactions could make using your cell phone to file more difficult particularly if this is the first time you are filing by phone.
A few of the most popular tax apps for filing by phone
The most popular tax apps for filing by phone include TurboTax by Intuit, H&R Block Tax File and Prep, Tax Slayer, and Cash App Taxes. All:
Permit you to scan documents with your camera
Contact tax experts for assistance
Offer two-factor authentication and Face ID/Touch ID sign-in
The opportunity to have a tax pro review your taxes prior to filing. This person can even file for you if you like
Simple tax returns can be filed for free, but each app charges a fee for more complicated returns. TaxSlayer, an app not as well-known as TurboTax and H&R Block, frequently offers better prices for complex returns. As it pertains to Cash App, if you already have it on your phone, you don't even need to install another app. Simply click the "banking" tab to get started.
A few final suggestions
Research the app you'd like to use
As mentioned earlier, before you dive headfirst into a particular tax app, read its description in Google Play or the App Store and really read the user reviews. You can also research it using Google and of course you should ask family and friends who have used it what their experience was. Filing using your phone is not difficult, but as with filing on a computer, you do need to know certain things ahead of time.
Research the tax deductions for 2022
Just because you are using an app that enables you to file for free doesn't mean you shouldn't look for other ways not to pay Uncle Sam more than you have to.
Visit irs.gov for the latest adjustments in revenue procedure. For example, the standard deduction for married couples filing jointly for tax year 2022 is up $800 to $25,900. For single taxpayers and married individuals filing separately, the standard deduction is up $400 to $12,950, and for heads of households, the standard deduction is up $600 to $19,400.
It's important to know this stuff so you keep as much of your hard earned money in your pocket as possible.
What's another great way to do exactly that?
Switch to PureTalk
If you're using one of the pricy wireless providers – Verizon, AT&T, or T-Mobile – you could save yourself a bundle by switching to PureTalk.
Pure Talk is proud to offer you plans starting as low as $20 a month for unlimited talk and text and 2GB of data.
Get the perfect, low cost wireless plan for your family's needs with PureTalk's Mix & Match Family Plans
No matter what your family's wireless needs are, PureTalk's Mix & Match Family Plans let you choose the right plan for each family member's needs. You can have any number of lines and choose the perfect wireless plan for each one. Your family members get exactly what they need, and you never pay for anything they don't. In fact, families of four who switch to PureTalk save $75 a month on average, for a savings of $900 a year! Whatever your family's size or wireless needs may be, you're sure to save a bundle!
Are you active duty military or a Veteran?
PureTalk thanks you for your service with a 15% discount
As a patriotic, Veteran-owned company, PureTalk salutes all active duty military personnel and Veterans for their bravery and selflessness. It's our honor to offer a 15% discount to those who have fought for our freedom, and those who are doing so today. Explore our plans, select the one that best meets your needs, and apply the 15% discount at checkout. The land of the free wouldn't be, without you.
Shopping for a phone plan for a senior?
Did you know that most seniors use less than 2GB of data per month? PureTalk offers great plans for seniors that let you pay only for what you actually want – and nothing you don't. And with PureTalk you get the same great service and blazing fast coverage while saving money each month.
At PureTalk, we don't think you should pay for data you don't need and aren't going to use. Switch today and receive great service and blazing fast coverage while saving money each month.
Choose from PureTalk's most popular plans!
$20/month: Unlimited Talk & Text; 2GB Data* Learn More
$25/month: Unlimited Talk & Text; 4GB Data* Learn More
$30/month: Unlimited Talk & Text; 6GB Data* Learn More
Need more data one month?
Simply go into your account portal and add more. When next month rolls around, if you need less data, you can go right back into your portal and reduce it. Simply log onto PureTalk.com, click on My Account, and select Manage My Data. Make your changes, save them, and log out. It's that simple.
Traveling to Canada or Mexico? PureTalk offers the best cell phone coverage in both countries.
Think of PureTalk as your travel partner. Get the best cellphone coverage in Canada and Mexico with PureTalk International Roaming for just $10.
It's really a great deal.
Plus, there's no setup. No additional wireless roaming charges. And no need to run out and purchase a local SIM card. Your phone simply works when you arrive. No hassles and not a moment of disconnection.
To add International Roaming:
Simply log in to your PureTalk account and click the "Add-Ons" tab. Then, select International Roaming as a one-time purchase. The service will be added immediately to your cellular phone package and you're good to go.
When to add International Roaming as a recurring charge:
If you travel to Canada or Mexico frequently, add International Roaming as a recurring monthly charge. Set it up once and it's one less thing to think about when you're headed out of town.
PureTalk's International Roaming means:
Constant connectivity.
No pricey roaming charges.
No additional devices to lug around.
In addition to our no contract, low cost, unlimited talk and text cell phone plans, PureTalk offers Canada- and Mexico-bound customers great value and something even more important: peace of mind.
PureTalk's International Roaming is the best $10 you'll ever spend. Add it with one click, and stay connected.
And that's not all…PureTalk has the best referral program
At PureTalk, when you refer your friends, you reward yourself.
When you join PureTalk, you're given a unique referral link you can share with friends and family. For each friend who signs up through your unique link, you receive a $20 bill credit applied to your account, and your friend receives a $20 credit applied to their account. Best of all, there are no limits. You can refer as many friends as you want, and you will get a $20 credit for every single one of them.
Everything you need to know about the PureTalk Customer Referral Program:
1. Each customer has a unique referral link to share with friends. For each friend who signs up through your unique link, you will receive a $20 bill credit applied to your account, and your friend will receive a $20 credit applied to their account.
2. There are no limits to how many friends you can refer with PureTalk's Customer Referral Program. Refer all of your friends and get a $20 credit for every single one of them.
3. Your $20 credit will post to your account after your friend completes their second active month of service.
4. To see which of your friends you have referred to PureTalk, log in to MY ACCOUNT and click the "Referrals" tab at the top of the page. You will see all of your referrals listed in the "Referral Credits" table at the bottom of the page.
5. You can post your referral link anywhere you want. On your social media channels, your blog, in emails, etc. You can grab your unique referral link by logging in to My Account and clicking the Referrals tab.
6. There are two ways you can earn referral credits. Your friend can use your unique referral link or enter your phone number at checkout when asked if a friend referred him.
Don't forget: Remind those you are referring to PureTalk to enter your phone number at checkout IF they've forgotten to sign up through your referral link.
With the PureTalk referral program you can earn as many credits as you have friends and save even more on the plan of your choice!
PureTalk's Risk-Free, 30-Day Money Back Guarantee makes it easy to give us a try
With PureTalk's risk-free, thirty-day money back guarantee you have absolutely nothing to lose. Sign up and give us a try for one month. We know you'll love us. But if you don't, simply call to cancel your service within thirty-days and we'll return your money. No penalties. No hassles.
Why choose PureTalk?
When you choose PureTalk, you're choosing to support a company whose values align with your own. You're choosing to support a company whose CEO is a U.S. veteran. And you're also choosing to support American jobs: 100% of our customer service is based right here in the United States.
Plus, with PureTalk, you can bring your phone and keep your phone number or choose from our terrific selection of the latest iPhones and Androids.
Don't wait. Pick a plan now that meets your needs, suits your lifestyle, and helps you save!
What Our Customers Are Saying
Great customer service
"Your people are courteous, knowledgeable, efficient, and friendly. They fix my issues, port my numbers, and always sound happy to help. They speak American English and they are clear and easy to understand. Thank you all and don't change." Robert Z., FL
Great Experience
"It was very efficient to contact and set up the service with PureTalk. The website is easy to navigate, so one can both stay informed and keep their account information up to date. The price is much better than the larger carriers (I had T-Mobile for almost 20 years) and the voice and data services are at least as good as any others. Looking forward to many great years of excellent service." Michael S., PA
Frequently asked questions about PureTalk
When do I get my bill?
If you are signed up for e-bills, you will receive a reminder notification two days before your AutoPay deduction and a confirmation once it has been completed. Your payment is always due on the same date each month. Log into MY ACCOUNT any time to double check your due date.
Where do I get my bill?
MY ACCOUNT is the place to go for all of your account information. You can sign up for e-bills in MY ACCOUNT. You can also view your invoices by logging into your account as well. Invoices will be located under "Transactions" which is located under the "Billing" tab.
Can I pay my bill online?
You sure can! Log into MY ACCOUNT and click on the Billing tab and Pay Now. Note that making a one-time payment outside of your AutoPay will incur a $5.00 transaction fee. We encourage our customers to enroll in AutoPay where payments are automatically deducted each month on your bill due date.
Can I pay for my service with a prepaid credit card?
Yes, as long as the prepaid credit card is a VISA, MasterCard, American Express, or Discover, you may use a prepaid credit card.
How do I update my payment method?
You can update your payment method by logging into MY ACCOUNT. "Change AutoPay" will be located under the "Billing" tab. You can also call Customer Support at 1-877-820-7873 or 611 from your PureTalk phone if you need some help.
When does my billing cycle start?
Your first monthly billing cycle begins on the day you activate service. Your billing cycle will start on the same date each month. If you activate your line on the 15th of February, for example, you will be billed next on the 15th of March and on the 15th of every month thereafter. To find your bill date, log into MY ACCOUNT or call Customer Support at 1-877-820-7873 or 611 from your PureTalk phone.
How long is my billing cycle?
Your billing cycle is monthly. Payment is always due on the same date each month depending on the date you completed your activation. Visit MY ACCOUNT for details or call Customer Support at 1-877-820-7873 or 611 from your PureTalk phone for more billing details.
What taxes or fees will I have to pay with PureTalk?
PureTalk doesn't charge line activation fees or monthly line access fees like many carriers do, but the Federal government does require us to charge taxes and regulatory fees (such as 911 emergency services) which are added to your monthly payment as "taxes & fees." Taxes vary based on your city/state location. You can view a breakdown of the taxes and fees in the MY ACCOUNT Billing section.
Can I change my plan during the month?
You can change your plan at any time. Simply go to MY ACCOUNT click the Plan tab and choose Change Service Plan.
How do I add a line to my account?
Log in to MY ACCOUNT and go to the PLAN tab. Then click the "Add a new line" button on the right side of the page. This is will ensure that you receive your multi-line discount.
How do I know how many minutes/messages/data I've used at any time?
Just log into MY ACCOUNT to check how many minutes/message/data you have used during the month.
How do I reset my password?
You can log into MY ACCOUNT at any time to change your password. Simply go to the Profile tab and choose Change Password.
What should I do if my phone is lost or stolen?
If your phone is lost or stolen, and you think you may find your phone, you can choose to suspend your line temporarily. Suspending your line means your phone will not be able to make calls or text. However, while suspended, you are still responsible for your monthly payment. If you believe you will not find your phone, we suggest to go ahead and purchase a new device, so we may port your number over to your new device.

NOTE: Our system only allows the line to be suspended until your next bill date. If you reach your next bill date, your line will automatically be unsuspended.
If I am out of the US for an extended period how much do I pay per month to maintain my service? Is there a time limit?
If you wish to keep your service active, your monthly payment is required to be paid in full each month while you are away. PureTalk does not offer service suspension.
I'm going to add another line to my account. My account bills in a few days. How will it work if I add the line now?
At PureTalk, you have one monthly payment date for all lines on your account, even if you add a line during a monthly billing cycle. When adding a line, you are required to prepay for the monthly plan. PureTalk will then prorate the monthly plan and a credit will appear on your bill.
Do I have to cancel my old plan before starting a new one with PureTalk?
No, please keep your current service active. We want to make sure you have continuous coverage until your PureTalk activation has been completed. Additionally, if you are porting your number, your account will be required to remain open to transfer the number over.
Why can't I close my PureTalk account online without having to call?
To protect your security and privacy, all cancellations must take place over the phone.
Does PureTalk offer nationwide coverage?
Absolutely! PureTalk runs on the nation's largest GSM network, which covers 99% of Americans. Check out our coverage map. PureTalk also offers 5G coverage. Actual 5G availability, coverage, and speed may vary. 5G is not available in all areas and a 5G capable device is required.
Is PureTalk right for me?
If you are looking for a low-cost wireless service that runs on the nation's largest GSM network, then PureTalk is right for you!
*After you have used your plan's high-speed data allowance, we will not turn off your data. Your speed will be throttled to 256 kbps. Typically, you can expect to experience download speeds of 4-35Mbps and upload speeds of 1-5Mbps with an average device to network edge round-trip latency of less than 60ms. The average speed and latency of our 4G LTE network is suitable for video and audio streaming, web browsing and other general Internet usage consistent with PureTalk terms and conditions. **After 60GB of data usage you will experience slower speeds.
---
Posted 2 months ago