Paying off
$10 million

of veteran's debt is a big deal. And together we did it.

PureTalk, and you, stepped up together in a big way to make a positive impact on the lives of our veterans. With an unyielding commitment to those who've sacrificed so much for our country, we've achieved our goal of forgiving $10 million in veteran debt. This successful campaign empowers our veterans for a brighter and more promising civilian future.
Thank you
Why We Did It
Picture this scenario: One day, you stand tall as a highly skilled member of the US Military, and the next, you're a veteran navigating the labyrinth of civilian employment, pondering how your exceptional skills fit in. It's a journey of self-discovery, trying to find your footing in a new world while the bills keep rolling in. The price of transitioning from military service to civilian life can be large and unexpected. Veterans never want a hand out, but sometimes they need a hand up.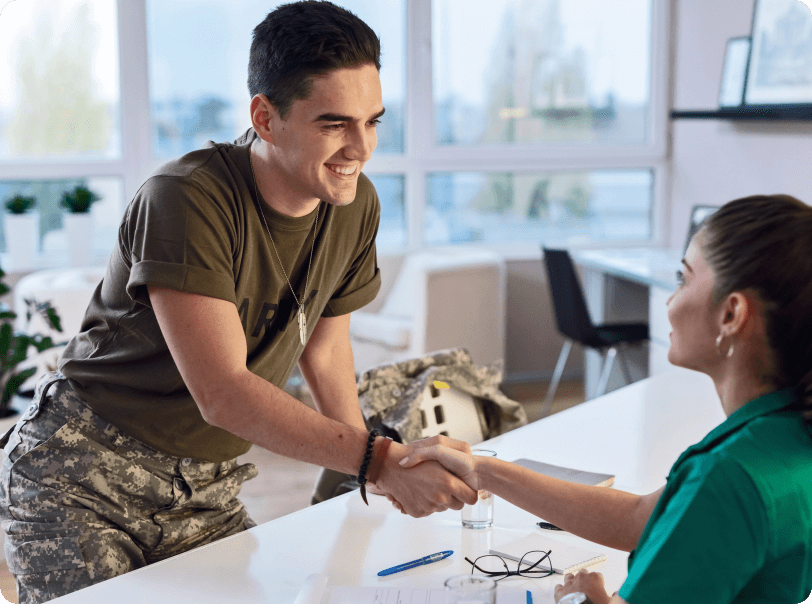 How We Did It
Along with you and ForgiveCo, a public benefit corporation that partners with brands to assist those in need, PureTalk has raised enough money to eliminate $10 million dollars in veteran debt. Now ForgiveCo has located veterans in need and use this fund to pay off their debts. Together, we are all making a profound difference in the lives of veterans struggling with financial hardships.
Testimonials
Wow, this was my first car in the Airforce. I was thinking of going bankrupt. What a blessing you and PureTalk are to me! Thank you so much!!!
Brianna S. - Jber, AK
I would like to thank the PureTalk for helping me with a debt that I owed. I want to spread the word about PureTalk and ForgiveCo. Words cannot express the joy this brings to me. Thank you so much.
Leslie A. - Youngstown, OH
This is awesome to hear honestly, I have been worrying about this since I have been homeless. It's been super hard for me to get a place with my bad credit, so I have been looking at ways to pay it off and yea this is insane to hear honestly!
Chance P. - Homeless
Thank you very much for the help, it's been an ongoing battle to get that line closed due to the other driver not having insurance! This will help me out a lot in the long run!!!
Cody H. - Brookville, OH
First, I would like to express my gratitude. Thank you so much for your kindness and appreciation.
Jacqueline G. - Whiteville, NC
Thank you so much for the support. You guys relieved me!!!
Isalah M. - Fort Hood, TX
Thank you so much for paying off my account! I feel so grateful. Please keep up your great works. Follow-up text: Thanks again it means a lot to me and helps my family out so much thank you.
David S. - James Island, SC
Thank you so much I'm so grateful for this!!!
Briana J. - Newport, VA
God bless you 🙏 I'm so so very grateful 🙏 you don't even know how much I appreciate this…thank you and God bless you.
Shirley H. - Prior, OK