Nov 29, 2022
Take holiday pictures like a pro
Follow these 6 terrific tips!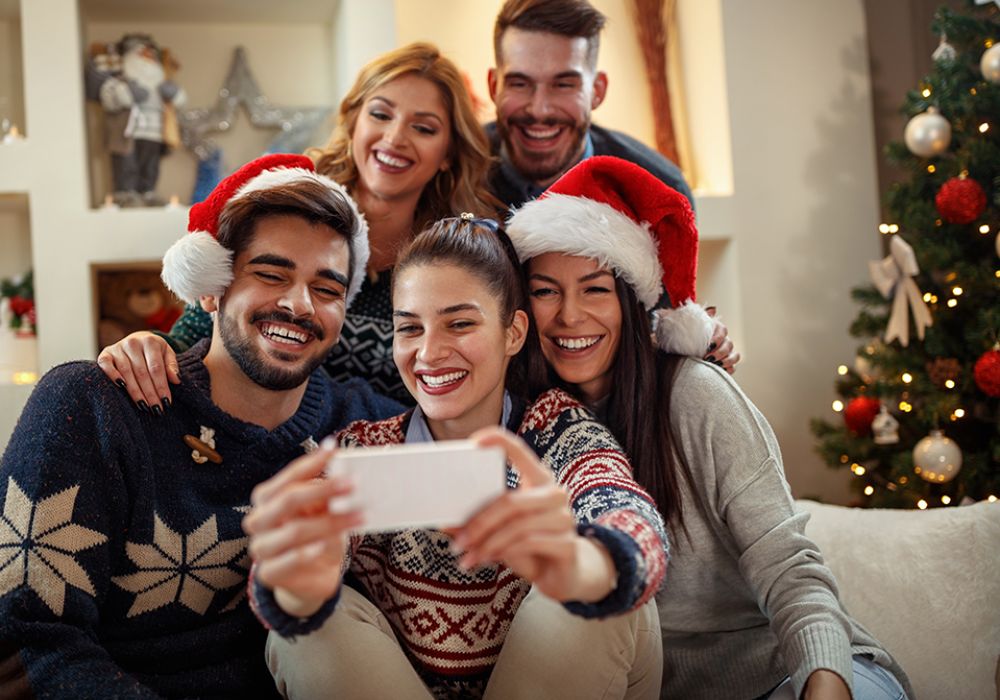 You can take great holiday photos with your smartphone by following a few simple steps. Never again will you cut off the top of people's heads or leave family members out of focus. Seriously. Follow these tips and you'll have holiday photos worthy of posting and printing!
1. Balance your shot by using gridlines.
When you turn on your phone's gridlines, it superimposes a series of lines on the screen of your camera. If you place your subject – your grandchild opening a present Christmas morning, for instance – along the lines, your photo will be more level and balanced.
To turn the gridlines on:
On iPhone: Go to "Settings," select "Photos & Camera," and switch "Grid" on.
On Android: Launch the camera app, go to "Settings," scroll down and switch the "gridlines" option to "on."
2. Determine where you want your camera to focus.
Your phone camera is automatically set to focus on the foreground of your frame, but if the image in the foreground isn't what you want to focus on, you can adjust that.
To do so: Open your camera app and tap the screen where you want the focus to be. For example: In the foreground, your husband is eating a piece of pie. But what you want to focus on is your son photobombing him in the background. Tap your son's face. A square or circular icon will appear on your camera screen. When it does, snap the photo.
3. Steady your camera.
Blurry photos are the worst, so you need to really steady yourself and your camera before shooting.
To do so: Lean on a friend or family member or lean against a wall to prevent your hands from wobbling. You can even prop your phone up using a phone stand or books.
4. Zooming in is not the answer.
It's tempting to zoom in on something you really want to capture, but it's not the best way to go. Why? Because when you zoom in, the result is typically a grainy, blurry, or pixelated photo. Instead, get closer to your subject physically. That way, you won't impact the quality of the photo and it will be easier later to crop it or somehow manipulate it as you'll be working with a larger image.
5. Clean your smartphone's camera lens
Ever take a photo and then wonder what all those tiny specks are on it? They're dust and particles that have collected on the lens of your phone's camera. Our phones live in our pockets, bags, and backpacks, and consequently, all manner of debris collect on the camera lens. Cleaning it with a soft cloth before you start shooting will go a long way toward improving the quality of your pictures.
6. Shoot in natural light, aka the outdoors
Smartphones don't take their best photos indoors. Obviously, you can get great shots around the dinner table, in front of a fireplace, etc., but if you can get outside to take photos, do so. Natural lighting is best for taking photos with your smartphone. It not only helps capture the subject better, but it also imparts mood and atmosphere which create a more well-rounded result.
At PureTalk, we believe in helping you do more than take great photos with your phone. We believe in helping you get the phones and service you deserve at a real savings.
iPhone 14 is all the rage. And PureTalk's iPhone deals make it easier for you or someone you love to have the latest and greatest smartphones for less. Get. iPhone 14 for under $20 a month! iPhone 14 Plus and iPhone 14 Pro for under $25 a month! And iPhone 14 Pro Max for under $30 a month! Those savings can't be beat.
Get the perfect wireless plan for your family's needs with…
PureTalk's Mix & Match Family Plans
No matter what your family's wireless needs are, PureTalk's Mix & Match Family Plans let you choose the right plan for each family member's needs. You can have any number of lines and choose the perfect wireless plan for each one. Your family members get exactly what they need, and you never pay for anything they don't. In fact, families of four who switch to PureTalk save $75 a month on average, for a savings of $900 a year! Whatever your family's size or wireless needs may be, you're sure to save a bundle!
Shopping for a phone plan for a senior?
Did you know that most seniors use less than 2GB of data per month? PureTalk offers great plans for seniors that let you pay only for what you actually want – and nothing you don't. And with PureTalk you get the same great service and blazing fast coverage while saving money each month.
At PureTalk, we don't think you should pay for data you don't need and aren't going to use. Switch today and receive great service and blazing fast coverage while saving money each month.
Choose from PureTalk's most popular plans!
$20/month: Unlimited Talk & Text; 2GB Data*
$25/month: Unlimited Talk & Text; 4GB Data*
$30/month: Unlimited Talk & Text; 6GB Data*
Need more data one month?
Simply go into your account portal and add more. When next month rolls around, if you need less data, you can go right back into your portal and reduce it. Simply log onto PureTalk.com, click on My Account, and select Manage My Data. Make your changes, save them, and log out.
It's that simple.
Traveling to Canada or Mexico? PureTalk offers the best cell phone coverage in both countries.
Think of PureTalk as your travel partner. Get the best cellphone coverage in Canada and Mexico with PureTalk International Roaming for just $10.
It's really a great deal.
Plus, there's no setup. No additional wireless roaming charges. And no need to run out and purchase a local SIM card. Your phone simply works when you arrive. No hassles and not a moment of disconnection.
To add International Roaming:
Simply log in to your PureTalk account and click the "Add-Ons" tab. Then, select International Roaming as a one-time purchase. The service will be added immediately to your cellular phone package and you're good to go.
When to add International Roaming as a recurring charge:
If you travel to Canada or Mexico frequently, add International Roaming as a recurring monthly charge. Set it up once and it's one less thing to think about when you're headed out of town.
PureTalk's International Roaming means:
Constant connectivity.
No pricey roaming charges.
No additional devices to lug around.
In addition to our no contract, low cost, unlimited talk and text cell phone plans, PureTalk offers Canada- and Mexico-bound customers great value and something even more important: peace of mind.
PureTalk's International Roaming is the best $10 you'll ever spend. Add it with one click, and stay connected.
And that's not all…
PureTalk has the best referral program
At PureTalk, when you refer your friends, you reward yourself.
When you join PureTalk, you're given a unique referral link you can share with friends and family. For each friend who signs up through your unique link, you receive a $20 bill credit applied to your account, and your friend receives a $20 credit applied to their account. Best of all, there are no limits. You can refer as many friends as you want, and you will get a $20 credit for every single one of them.
Everything you need to know about the PureTalk Customer Referral Program:
1. Each customer has a unique referral link to share with friends. For each friend who signs up through your unique link, you will receive a $20 bill credit applied to your account, and your friend will receive a $20 credit applied to their account.
2. There are no limits to how many friends you can refer with PureTalk's Customer Referral Program. Refer all of your friends and get a $20 credit for every single one of them.
3. Your $20 credit will post to your account after your friend completes their second active month of service.
4. To see which of your friends you have referred to PureTalk, log in to MY ACCOUNT and click the "Referrals" tab at the top of the page. You will see all of your referrals listed in the "Referral Credits" table at the bottom of the page.
5. You can post your referral link anywhere you want. On your social media channels, your blog, in emails, etc. You can grab your unique referral link by logging in to My Account and clicking the Referrals tab.
6. There are two ways you can earn referral credits. Your friend can use your unique referral link or enter your phone number at checkout when asked if a friend referred him.
Don't forget: Remind those you are referring to PureTalk to enter your phone number at checkout IF they've forgotten to sign up through your referral link.
With the PureTalk referral program you can earn as many credits as you have friends and save even more on the plan of your choice!
PureTalk's Risk-Free, 30-Day Money Back Guarantee makes it easy to give us a try
With PureTalk's risk-free, thirty-day money back guarantee you have absolutely nothing to lose. Sign up and give us a try for one month. We know you'll love us. But if you don't, simply call to cancel your service within thirty-days and we'll return your money. No penalties. No hassles.
Why choose PureTalk?
When you choose PureTalk, you're choosing to support a company whose values align with your own. You're choosing to support a company whose CEO is a U.S. veteran. And you're also choosing to support American jobs: 100% of our customer service is based right here in the United States.
Plus, with PureTalk, you can bring your phone and keep your phone number or choose from our terrific selection of the latest iPhones and Androids.
Don't wait. Pick a plan now that meets your needs, suits your lifestyle, and helps you save!
******************************************************
What Our Customers Are Saying
Great customer service
"Your people are courteous, knowledgeable, efficient, and friendly. They fix my issues, port my numbers, and always sound happy to help. They speak American English and they are clear and easy to understand. Thank you all and don't change." Robert Z., FL
Great Experience
"It was very efficient to contact and set up the service with PureTalk. The website is easy to navigate, so one can both stay informed and keep their account information up to date. The price is much better than the larger carriers (I had T-Mobile for almost 20 years) and the voice and data services are at least as good as any others. Looking forward to many great years of excellent service." Michael S., PA
---
Posted 2 months ago