Nov 9, 2022
Choosing the best cell phone plans for seniors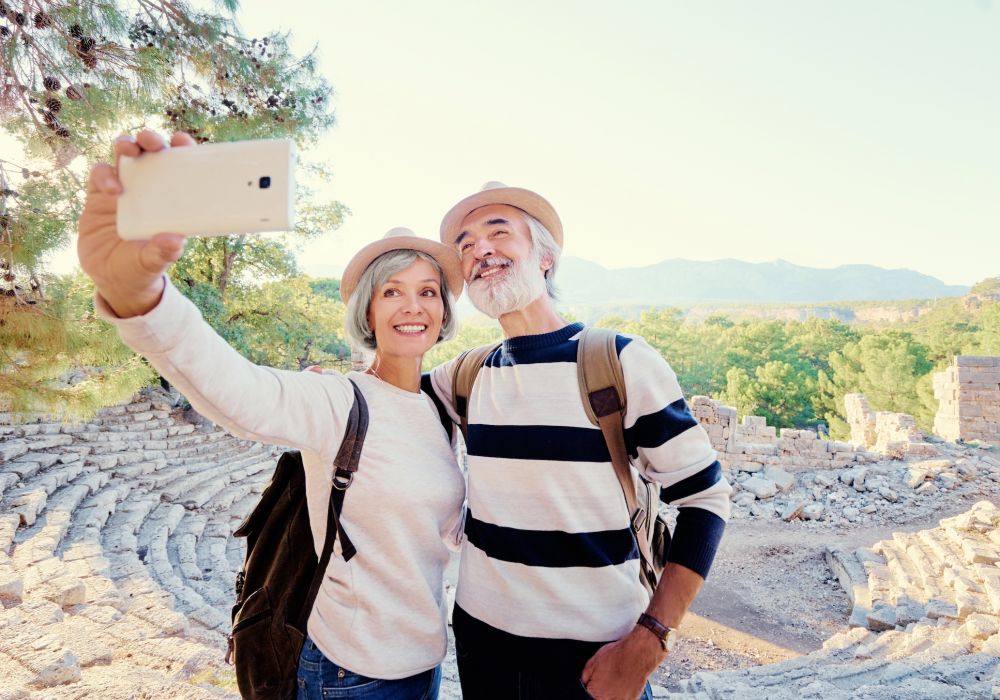 Maybe you're a senior or maybe you're looking into cell phone plans for a family member or friend who is. Whatever the case, we're happy to help you find the plan that meets the needs of seniors because, frankly, they're far different from the needs of younger people who use their smartphones for gaming, streaming, etc. Following are three things to know and do when researching the best cell phone plan for seniors.
1.
Seniors don't need an unlimited amount of data
The majority of cell phone plans that feature unlimited data have what's called as a deprioritization threshold. It's like a cap on your data and, if you reach it, your activities like web browsing, watching videos on Facebook, etc., might be slower than you're used to.
The standard data deprioritization threshold is 23GB, but most people use just 2-5GB per billing cycle and, more importantly, most seniors use less than 2GB per billing cycle.
Here's an example: If you're on a $70 a month unlimited plan which gives you up to 23GB of data (remember that threshold), this means you're paying $3.04 per GB of data. And if you're using just under 2GB a month, you're paying an extra $57.40 per month for 16.92 GB of data you're not using.
Ouch.
2.
Take a moment to find out how much data you're using right now
If you receive a paper bill from your provider, the data usage information is most likely on the second or third page of your invoice. If your provider doesn't include it, you can call or go online to request a more detailed bill. You can also do the following:
Log into your account from your computer and check the Usage tab.
Download your provider's app and check the Usage tab.
Call your provider from your wireless phone:
AT&T: Dial *3282#
T-Mobile: Dial #web#
Verizon: Dial #DATA
We're willing to bet that you discover that your monthly data use is 2GB or less!
3.
Let's take a closer look at data
Data is the secret sauce that fuels almost everything you love to do and because it does, you might think you need a lot of it.
Funnily enough, you don't.
Web Browsing:
If you spend a lot of time on the Internet shopping or doing research, reading, checking sports scores, or making travel reservations, it's quite possible to believe these activities take up a lot of data. But they don't. In fact, even if you spent most of your time on photo-heavy websites, which use more data than those with lots of text, you still wouldn't come close to the 23GB data threshold. And, more importantly, you wouldn't even come close to going beyond the 2GB of data most seniors use per billing cycle.
One hour of web browsing = 60MB of data
60MB of data = 0.06GB
Facebook:
Once again it's easy to assume that because you can easily get sucked into Facebook it uses a lot of your data. It really doesn't. An hour scrolling through posts from your high school friends, neighbors you used to live next door to, far flung family members (or those you wish were far flung!), and community groups, uses about 80MB of data. That's more than shopping online or doing research, but only because Facebook has so many photos on it. And an hour on Facebook watching cat videos, clips of Dancing with the Stars, and footage of puppies so cute you could cry, uses 160MB of data. Still, not a lot of data consumption.
One hour browsing on Facebook = 80MB of data
80MB of data = 0.08GB
One hour watching videos on Facebook = 160MB
160MB = 0.16GB
FaceTime:
FaceTime is great for dozens of activities. Keeping up with your kids, viewing prospective vacation properties from afar, and staying in touch with family and friends. And, like web browsing, it doesn't use a lot of data.
One hour FaceTime call = 85MB of data
85MB of data = 0.085GB
Listening to Podcasts:
The typical podcast uses about 1MB of data per minute. So if you're listening to a 60-minute show, you'll use about 60MB of data. That's so little data, you might as well listen to several episodes in a row!
One hour podcast = 60MB of data
60MB of data = 0.06GB
Let's tally it up
60MB for 1-hour of web browsing + 80MB for 1-hour of Facebook browsing + 160MB for 1-hour watching videos on Facebook + 85MB for 1-hour on FaceTime + 60MB to listen to a 1-hour podcast = 445MB or 0.445GB
That's not even half a gigabyte. And it's nowhere near the 1,000MB that equals 1GB.
The bottom line:
There's a reason most seniors use under 2GB of data per billing cycle. And that's because you'd have to spend every waking moment, 24-hours a day, seven days a week, online to exceed that amount.
The average senior doesn't spend 24-hours, seven days a week online. That's why the average senior doesn't need a $50, $60, or $70 a month unlimited cell phone plan.
At PureTalk, we don't think you should pay for data you don't need and aren't going to use. Switch today and receive great service and nationwide coverage while saving money each month.
Choose from PureTalk's most popular plans!
$20/month
Unlimited Talk & Text
2GB Data*
$25/month
Unlimited Talk & Text
4GB Data*
$30/month
Unlimited Talk & Text
6GB Data*
Need more data one month?
Simply go into your account portal and add more. When next month rolls around, if you need less data, you can go right back into your portal and reduce it. Simply log onto PureTalk.com, click on My Account, and select Manage My Data. Make your changes, save them, and log out.
It's that simple.
PureTalk offers the best cell phone coverage in Canada and Mexico
Think of PureTalk as your travel partner. Get the best cellphone coverage in Canada and Mexico with PureTalk International Roaming for just $10.
It's really a great deal.
Plus, there's no setup. No additional wireless roaming charges. And no need to run out and purchase a local SIM card. Your phone simply works when you arrive. No hassles and not a moment of disconnection.
To add International Roaming:
Simply log in to your PureTalk account and click the "Add-Ons" tab. Then, select International Roaming as a one-time purchase. The service will be added immediately to your cellular phone package and you're good to go.
Travel frequently to Canada or Mexico?
If you travel to Canada or Mexico frequently, add International Roaming as a recurring monthly charge. Set it up once and it's one less thing to think about when you're headed out of town.
PureTalk's International Roaming means:
Constant connectivity.
No pricey roaming charges.
No additional devices to lug around.
In addition to our no contract, low cost, unlimited talk and text cell phone plans, PureTalk offers Canada- and Mexico-bound customers great value and something even more important: peace of mind.
PureTalk's International Roaming is the best $10 you'll ever spend. Add it with one click, and stay connected.
And PureTalk has the best referral program
At PureTalk, when you refer your friends, you reward yourself.
When you join PureTalk, you're given a unique referral link you can share with friends and family. For each friend who signs up through your unique link, you receive a $20 bill credit applied to your account, and your friend receives a $20 credit applied to their account. Best of all, there are no limits. You can refer as many friends as you want, and you will get a $20 credit for every single one of them.
Everything you need to know about the PureTalk Customer Referral Program:
1 .Each customer has a unique referral link to share with friends. For each friend who signs up through your unique link, you will receive a $20 bill credit applied to your account, and your friend will receive a $20 credit applied to their account.
2. There are no limits to how many friends you can refer with PureTalk's Customer Referral Program. Refer all of your friends and get a $20 credit for every single one of them.
3. Your $20 credit will post to your account after your friend completes their second active month of service.
4. To see which of your friends you have referred to PureTalk, log in to MY ACCOUNT and click the "Referrals" tab at the top of the page. You will see all of your referrals listed in the "Referral Credits" table at the bottom of the page.
5. You can post your referral link anywhere you want. On your social media channels, your blog, in emails, etc. You can grab your unique referral link by logging in to My Account and clicking the Referrals tab.
6. There are two ways you can earn referral credits. Your friend can use your unique referral link or enter your phone number at checkout when asked if a friend referred him.
Don't forget: Remind those you are referring to PureTalk to enter your phone number at checkout IF they've forgotten to sign up through your referral link.
With the PureTalk referral program you can earn as many credits as you have friends and save even more on the plan of your choice!
PureTalk makes it easy to give us a try
With PureTalk's risk-free, thirty-day money back guarantee you have absolutely nothing to lose. Sign up and give us a try for one month. We know you'll love us. But if you don't, simply call to cancel your service within thirty-days and we'll return your money. No penalties. No hassles.
Why choose PureTalk?
When you choose PureTalk, you're choosing to support a company whose values align with your own. You're choosing to support a company whose CEO is a U.S. veteran. And you're also choosing to support American jobs: 100% of our customer service is based right here in the United States.
Plus, with PureTalk, you can bring your phone and keep your phone number or choose from our terrific selection of the latest iPhones and Androids.
Don't wait. Pick a plan now that meets your needs, suits your lifestyle, and helps you save!
What Our Customers Are Saying
Great customer service
"Your people are courteous, knowledgeable, efficient, and friendly. They fix my issues, port my numbers, and always sound happy to help. They speak American English and they are clear and easy to understand. Thank you all and don't change." Robert Z., FL
Great Experience
"It was very efficient to contact and set up the service with PureTalk. The website is easy to navigate, so one can both stay informed and keep their account information up to date. The price is much better than the larger carriers (I had T-Mobile for almost 20 years) and the voice and data services are at least as good as any others. Looking forward to many great years of excellent service." Michael S., PA
*After you have used your plan's high-speed data allowance, we will not turn off your data. Your speed will be throttled to 256 kbps. Typically, you can expect to experience download speeds of 4-35Mbps and upload speeds of 1-5Mbps with an average device to network edge round-trip latency of less than 60ms. The average speed and latency of our 4G LTE network is suitable for video and audio streaming, web browsing and other general Internet usage consistent with PureTalk terms and conditions. **After 60GB of data usage you will experience slower speeds.
---
Posted 2 months ago